Table Top Sonicator with

Inbuilt Chiller Unit
We specialize in the manufacturing and supplying of best quality Table top Sonicator with Inbuilt Chiller Unit that is controlled by a microprocessor unit. Attributing to its longer functional life and low noise operation, the whole range of the sonicators offered by us is highly popular among the client-base we have garnered so far. The offered product is further known for its perfect finish.
• Longer functional life
• Perfect finish
• Resistant to corrosion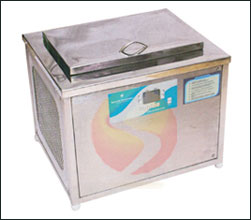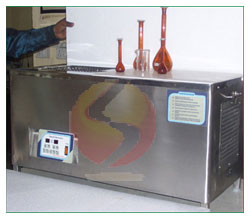 Specification
MODEL
:
SM-200 US / CH
TANK SIZE
:
450 X 300 X 150 MM ( L X W X H )
TEMPERATURE
:
600 X 500 X 500 MM ( L X W X H )
TANK
:
SS 304 (16G)
ENCLOSURE
:
SS 304 (18 G)
ULTRASONIC POWER
:
400 WATTS
ULTRASONIC FREQUENCY
:
33 KHz ± 3Khz.
TIMER
:
0 TO 99 MINUTES
POWER INPUT
:
230 VAC.
ULTRASONIC GENERATOR
:
ADVANCE LATEST MOSFET / IGBT BASED SMPS
CHILLER UNIT
:
INBUILT
TEMPERATURE
:
3-35 DEGREE
COMPRESSOR
:
EMMERSON MAKE
ACCESSORIES
:
LID, ADJUSTABLE BASKET, POWERCORD
OPTIONAL ACCESSORIES
:
BEAKER POSITIONER, FLASK HOLDER